CREATING FLOW WITH OMNIFOCUS PDF
Creating Flow with OmniFocus - Kourosh Dini, MD onatnakchiter.cf 2 . Finally, a white-paper pdf, OmniFocus, GTD, and You, is available online to get. Table of Contents. Acknowledgements. Foreword. Welcome. Versions & Applications. Other OmniFocus Resources. Beyond Creating Flow. onatnakchiter.cf MB. Education pricing and discounted prices are available to users who.
| | |
| --- | --- |
| Author: | MILAGRO TORNINCASA |
| Language: | English, Japanese, French |
| Country: | Andorra |
| Genre: | Politics & Laws |
| Pages: | 545 |
| Published (Last): | 17.03.2016 |
| ISBN: | 281-4-70466-396-5 |
| ePub File Size: | 21.32 MB |
| PDF File Size: | 14.79 MB |
| Distribution: | Free* [*Register to download] |
| Downloads: | 33583 |
| Uploaded by: | MARQUITA |
Kourosh Dini - Creating Flow with onatnakchiter.cf - Ebook download as PDF File .pdf), Text File .txt) or read book online. Creating Flow walks a fine line between a philosophy and technical as a PDF download, which makes its a perfect reference for OmniFocus. Creating Flow with OmniFocus book. Read 27 reviews from the world's largest community for readers. - Grasp basic through advanced concepts of OmniFocus t.
Sometimes, people decide to have a humorous theme running with some of their examples, with joke names and content that is designed to raise more of a laugh than a thought process. However there is a class element to this book that rises above that.
OmniFocus is a serious application and this is a serious book. As you would hope and expect from a book of this size, there is a logical flow excuse the pun to the order of the chapters and exercises.
Creating Flow with OmniFocus
Once the interface and action entry is taken care of, you are swiftly moved onto the concept of contexts and why they make a difference in your task management system. Deferred vs Due Dates is covered in great detail and there is a lengthy but essential section on the best way to deal with repeating tasks for routine maintenance tasks and habit formation.
Indeed, the theory of habits and their importance in your daily life is comprehensively described.
From contexts to projects, perspectives to meta-tasks, I would challenge anyone not to be able to pick up any new tips and tricks from this book. Kourosh acknowledges that there are certain situations where OmniFocus is not an appropriate tool, giving clear instructions how to use OmniOutliner for creating project templates and checklists for actions.
There is also an appendix section that explains how to use third party applications like Keyboard Maestro and TextExpander to make data entry faster and more efficient. I always refer to Getting Things Done as my productivity bible and I go back to it regularly to ensure that I still follow the sage advice given within.
If you are serious about being an OmniFocus Power User, you have to read this book. Do you want 7 days of ideas, insights, and information on how to craft your time in just 1 weekly email?
"Creating Flow with OmniFocus" Is The Book Every OF User Should Read
Giving options is probably useful for a lot of people, but I found it confusing. I'd rather he'd just said 'here's what I do now' and explained that, rather than going through how he got there.
Now I've got two core perspectives, neither of which I really understand, so I will undoubtedly have to read this section again. That said, I knew as soon as I started reading those parts that I'd need to come back to them. It is my intention to use the app for a month or so, see how I can tweak it when I understand it better and then come back to those sections in the book again.
The tickler and due perspectives in particular are ones I'm having trouble understanding. Where the tickler is concerned, I don't think it was explained very well at all.
I think I understand it, I'm just not sure how to set it up. And the Running Projects was also troublesome. Is it actually called that, or is it called 30k feet? There was some inconsistency in the book and it is that that had me feeling confused.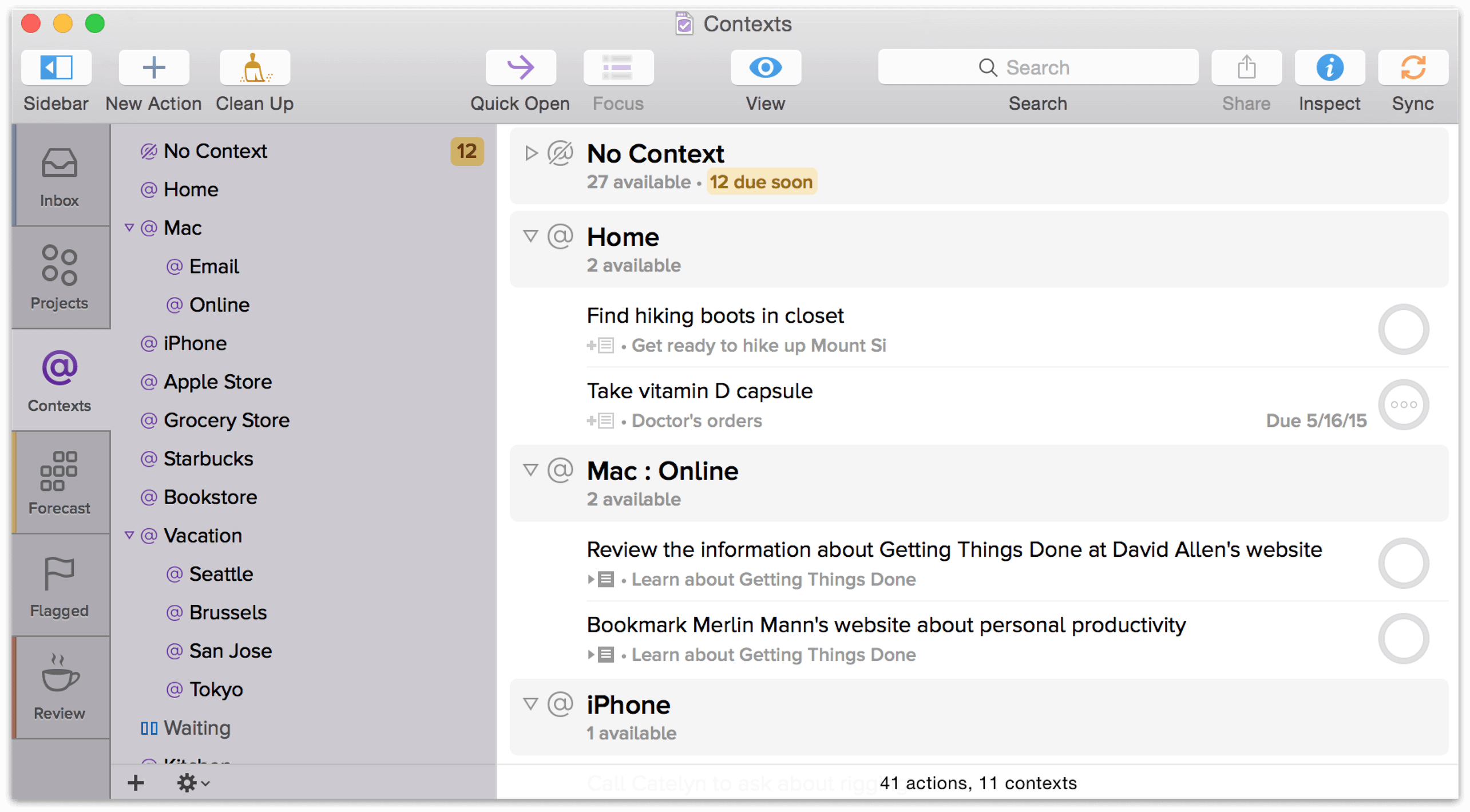 Pomodoros This was a fascination section and one which I will need to consider. Of course the danger here is the rabbit holes.
Learning OmniFocus [updated]
Maybe I could devote a minute pomodoro to investigation the rabbit holes and learning bits here and pieces there about how to tweak my project managing!
Even with this balancing act, the tone never comes off as wishy-washy or contrived.
Kourosh clearly lives in OmniFocus and offers his experience as a sort of trail guide for the lost. He carefully avoids a prescriptive town while still outlining his own use cases.
There are some new useful ideas in the book I've rarely seen elsewhere. The end of the book is entirely focused on the use of OmniFocus perspectives and templates in much more depth than even the Omnigroup teaches. While the book has significant documentation on the application settings, much of Kourosh's attention is on how switching between perspectives and Focus mode can sift through large task lists and maintain order.
Kourosh provides some guidance on what he calls "Depth" and "Launch" views and how these can balance each other. None of these are required or desirable for my work but his explanation is useful in considering where friction arises in large, busy task lists. Creating Flow with OmniFocus 3 is not really an application manual.
The Productivityist Daily Progress Planner can help you do all of that. And it's FREE.
It feels more like a continuation of the concepts David Allen espoused in Getting Things Done over a decade ago. It just so happens that Kourosh Dini is telling his story with OmniFocus as the backdrop.
Many pages include footnote references to Getting Things Done.In designing the contexts in which one can achieve a flow 4. My interest was piqued once again. When something does not appear to work as planned, enough should be known so that adjustments may be made. He founded MacStories in April and has been writing about Apple since.
It is jam-packed with information and the short-cut keys were repeated over and over, which I found very helpful. Email Workflow!
>